KZSU 2010 Winter Solstice Marathon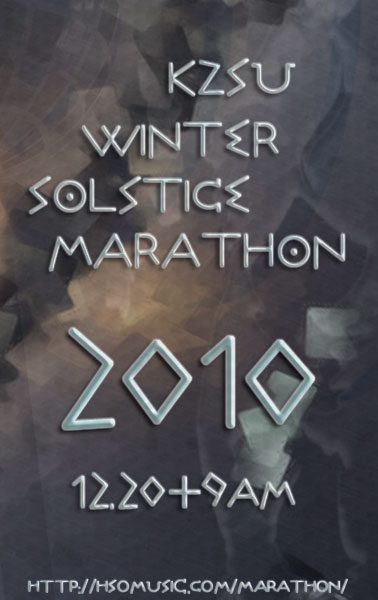 Tune In
Now in it's 18th year, KZSU's Solstice Marathon take over the station for 35 hours and bring you the finest dance music beats with DJs hooking you up from the studios of KZSU with grooves and music love from across the musical landscape and is hosted by Jack Wang (Big Love) and Holt Sorenson (eclektronik groove).
This winter's solstice marathon will be starting up Monday December 20th at 9 AM Pacific. Find out when the marathon is going down in your time zone!
This event is free and available via streams online so you can listen to it from anywhere you can get internet access.
Line Up
Adnan Sharif
Palestinian, Brazilian-born, Adnan Sharif's introduction to music began with the magical Rhythm of Samba, and soulful rhythms and grooves have defined his music ever since. In 1985 Adnan immigrated to the USA and found a new home in the city of San Francisco. DJ Adnan is one of the rising stars of the San Francisco House music scene, with releases on major labels. His musical styles include all genres of House music with smooth percussion.
Alonzo Ordoñez
Chris Leath
Chris is a wickedly talented DJ drawing from a wide musical taste to challenge your idea of what a DJ set is. His track selection and mixing skills are paragon. He uses these weapons to deftly conjure and enslave musical demons indenturing them to his will as the 1200s bow to the hands of a master.
DJ DFUNKT
Dru Deep
Andrew Serna plays records, make beats, and designs designs designs. Andrew has been playing records since he was a young lad. House is Andrew's #1 love. With all the diiferent styles nowadays he hates to label himself as "just a house DJ". He plays oldschool hip hop, disco, electro--versatile is Andrew's middle name.
Haptic Synapses
Haptic Synapses is a group of electronic musicians and artists based in the heart of Silicon Valley who get together and improvise long sets of music and visuals. Preparation is minimal, so what you see and hear is a realtime expression of our collective aesthetic.
The core group is Steve Cooley of beatseqr fame, Derek Scott aka The Rhythmist, and Charles Johnson aka Qorser. All three members have releases on the dobox netlabel.
Harry Who
Harry Who is a long time member of the Bay Area scene and will be throwing down some deep jazzy house to uplift your afternoon.
Holt Sorenson
Holt Sorenson is a radio dj for KZSU Stanford 90.1 FM. His live continuous mix show, Eclektronik Groove, can be heard monday mornings from 9AM-12PM Pacific Time (US). The show features various sub-genres of house, techno, and breaks. The show can be streamed online from KZSU. Holt also plays live and has been featured at parties and clubs in DC, LA, Las Vegas, Mexico, San Francisco, and Seattle.
J.C.
J.C. has been DJing since 1997. He's currently affiliated with KZSU, AuraSF, NetAmp and Epiphany. One thing that always surprises and disappoints J.C. is the narrowmindedness of many DJs. Considering how wonderful music is, constricting yourself to a narrow subgenre only cheats those in attendence and yourself. Just play the great stuff that moves you. In keeping with that concept, J.C. can bring you everything from deep house to DnB and everything in between in the realms of techno and trance.
Lucas Rodenbush
Lucas Rodenbush has been making electronic music since 1991. He is best known for his work as E.B.E. on labels like Soma, Plastic City, Yoshi Toshi, Resource + Jump, Grayhound, YellOrange and his and Solid Grooves' own San Jose, CA-based Solid Trax, producing electronic house and techno music with a distinctive sonic quality and rhythmic edge. His latest output includes a collection of releases with Designforms, Dutchie, Transmat, Plastic City Germany, Dobox and Immigrant. His music has made it onto the tracklists of many a compilation CD by such internationally respected DJs as Danny Tenaglia, Danny Howells, Anthony Pappa, Donald Glaude, Chris Fortier and Carl Cox. He has also seen a track licensed to the Sony Pictures Classics 35mm release of the feature "Groove" alongside the likes of John Digweed, Octave One and DJ Wish FM, as well as an inclusion on Transmat's revered Time:Space_02 project. His career as a dance musician has led him to work with important artists like Digs [DIY], Christian Smith, Alexi Delano, DJ Spun, GPal, Robin Porter, Chris Jackson, Kenneth Graham + Walter Chao, Mustafa, Arturo Garces, and Alonso Ordoñez. He has also remixed the work of Alexander East, Pete Moss, Marc Cotterell, Mechanique, Arturo Garces, Kenneth Graham, ADNY, Sloth & Dormant, ETI and Vandal. As a DJ, he has visited London [UK], Gdansk [Poland], Santiago [Chile], Vancouver [Canada], and has toured throughout Japan and the USA as a premier artist, with stops in Tokyo, Osaka, New York, Miami, Jacksonville, Detroit, Kalamazoo, Los Angeles, San Francisco, Fresno, Houston, Vail, Salt Lake City, Portland and Seattle. Rodenbush continues to develop his musical craft in the studio after receiving his MFA in Experimental Sound Practices and Integrated Media from the distinguished California Institute of the Arts [2008]. He also has BFA in Music Technology [CalArts, 2005] an AA in Film & Television [De Anza, 2003].
Rick Preston
Whether you experience Rick Preston's DJ sets in a packed club with half naked bodies pulsating and gyrating around you in the thick vibe, or if its at a huge rave with lasers and thousands of heads jumping and screaming, or at a park on that sunny afternoon with kids and families all getting down to the funky rhythms together in unison, its always guaranteed that you will have the biggest smile of your face after dancing to his music.
Although he started off his career playing Disco and Funk in the early 80's, Rick used his experience in the booming 80's alternative scene to hone his DJing skills. Rick would be part of various nighttime gatherings for friends in bars and night clubs, leading their nights with swooning tunes and industrial beats. And as the music progressed, so would Rick's attraction to what would lead to an even bigger movement, Electronic Music.
In the early 90's, Rick became involved with promotion alongside his frequent Dj gigs. Amongst some of the Bay Area greats, such as Jen??, Garth, Mark Farina, Spun, and Julius Papp, Rick was helping put on club nights and raves in their beginning stages, when the underground at its strongest.
While his DJ sets are mostly considered deep house, they are not limited to just the deep sound. Rick has a special flair for bringing together a multitude of genres which can include tribal rhythms, some tech-house, some Latin textures, a classic track or two, or even a mind awakening spoken word.
As a producer, Preston's motto of quality not quantity has stood him in good stead with some superb labels, notably Glasgow Underground, home to Mateo & Matos, Romanthony, and Neon Heights. He also has releases on AfterHours, Viva! Recordings, Freeze Records, Big Big Trax, and BCE.
DJ Stevian
Stevian is coming out and making his debut on the show. A long time resident of the local scene, Stevian is a sought after DJ that everybody knows and who hosts a weekly online show, Electronic Generation.
Stevian sez: 'I've always loved the different beats and melodies of music and when I heard House music for the first time, it captured my soul. I've been collecting since the early 90's and consider myself a "mixed bag" when it comes to explaining what style of music I play.'
I would have to say that being from the Bay Area the "SF Sound" has had a huge influence on me. I've been very fortunate to play with DJ's such as Spun, Tony, Simon, Jeno and Buck who are not only some of my favorites, but also DJs that have influenced me over the years. I try to incorporate more than one genre of music that will take people on a musical journey so..sit back, relax and enjoy the trip!
DJ Suite
Paul Davis, DJ Suite has been a part of the KZSU dance music story as he started out playing on the Big Love Show with Jack. His smooth style and track selection meld and blend beats as he makes vinyl dance under his fingers.
DJ Tamotsu
Since grade school Tamotsu has always been involved with music by playing in various bands. He picked up his vinyl habit sometime around 1991 when he taught himself how to mix on some 1200's that were left at the house after a party. Hooked for good, Tamotsu has been playing around the area and abroad ever since. Tamotsu has also helped support many of the earliest parties in San Jose, like Velvet Shop. He's played at the ENDUP, WMC, OM, Keep Tahoe Deep amongst many other venues. He's played across the globe from Bangkok to Hawaii.
On music - "I love all kinds of music, whatever's good, but I tend to lean toward the techy & deep."
The Worker
Michael Kelly, The Worker is dj and promoter in the bay area for parties and events such as Fiction.
DJ Zenith
DJ Zenith, Stephanie Blair, was born in Washington, DC but grew up all over the world. Her childhood included places such as southeastern Virginia; Marquette, Michigan; Angeles City, Philippines; and Seoul and Taegu, Korea. Music was part of her life from an early age. Whether she was taking classical piano lessons; singing while her father played twelve string guitar in talent shows; singing in choirs; playing roles including lead in musicals; or playing tenor saxophone in symphonic bands; or DJing her college radio station; Stephanie grew up immersed in music. Stephanie became fascinated by the San Francisco dance scene in Washington, DC where she returned to after college. Stephanie finally moved to San Francisco in 2002. Stephanie's mixes are characterized by a dominant bass line. Fascinated by rhythms, many of her tracks also feature a heavy percussion element. Whether she's dropping acid tracks, tracks with beautiful female vocals, jazzy tracks, or even hip house tracks... she always serves it up with a large side of funk. Stephanie has played as close as Black Rock City and as far away as Paris. DJ Highlights this year for Stephanie include DJing with Green Gorilla Lounge at Burning Man and at Burning Man Camp Fundraisers, playing in her home town Washington, DC at the Dragon Fly Bar and finally playing in Paris, France at the Lizard Lounge. Stephanie is a resident Thursday nights at Sugar with Native Intellgence ( Sleevin Records ) and DJ Robb Crush ( Stompy ) as well as the Art & Music Sessions on Saturdays with Cez featuring art work by Danyol. Stephanie can also be found DJing around San Francisco and coming to a warehouse near you.