upcoming events
past events
Killswitch @ UndergroundSF - Jan 8 2009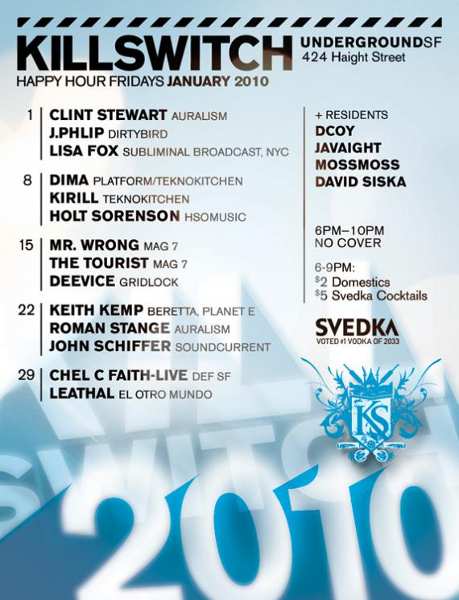 Founded in February 2008, Killswitch is a weekly happy hour dedicated to featuring the Bay Area's finest underground techno and house talent. Consisting of Stap[e DJ Javaight and Black Market Techno DJ dCOY, Killswitch has featured DJs from [KONTROL], Auralism, Dirtybird, Platform, Mothership, Nightlight, Stompy, Magnificent 7, Fiction, Black Market Techno, Filter, Bassaholics Anonymous, DEF SF, and Racecar. Quickly establishing itself as an end of the week hangout for heads, techno lovers and party people alike, Killswitch is the spot for underground beats to kick off your weekend.
re:sound @ Blowfish Lounge (Santana Row) - Jul 24 2009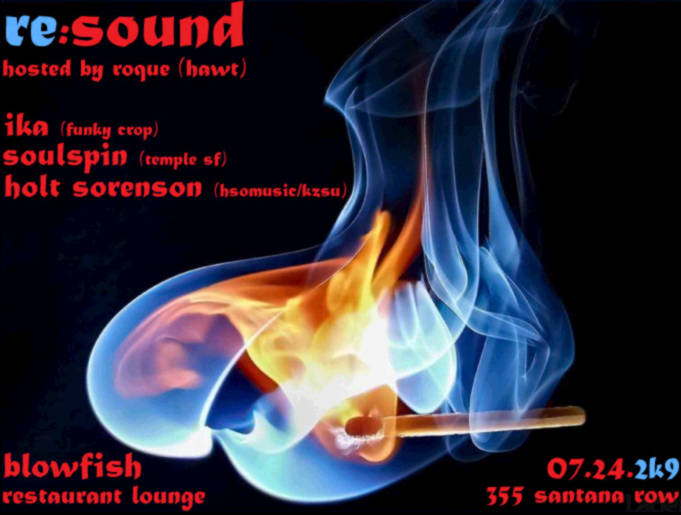 Rhythm Room @ THE END UP - Mar 08 2009
Green House Radio @ deepmixfm.com - Mar 15 2009
Fab Wednesdays @ Tryptich - Feb 25 2009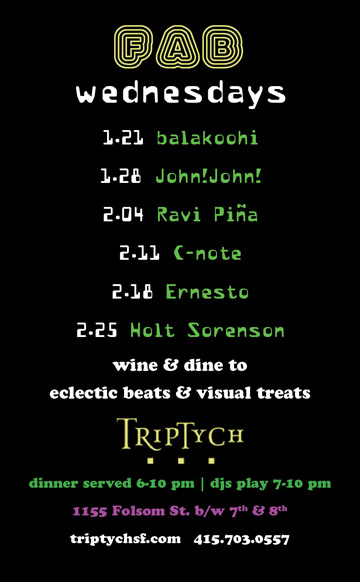 ShmooGrooves @ Chloe D.C. - Feb 07 2009
hacdc @ underground - Feb 06 2009
TropicalSF @ DNA Lounge - Jan 18 2009

Faktion Paralleism @ Anu - Dec 26 2008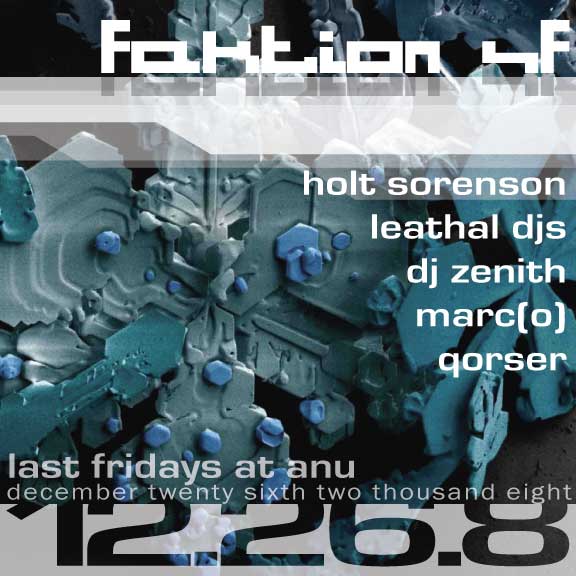 Winter Solstice Marathon @ KZSU - Dec 22 2008
The Solstice Marathon returns!!! We'll be taking over KZSU for 24 hours of dance music. Be sure to tune in and listen!

Tonal @ Underground - Dec 13, 2008
Every dancer down in Tonal-ville
Liked undergrounds a lot...
But the Grinch, who lived just north of Tonal-ville
Did NOT!
The Grinch hated undergrounds!
The whole underground season!
Now, please don't ask why.
No one quite knows the reason.
It could be his head
Wasn't screwed on just right.
It could be, perhaps, that his shoes
Were too tight.
But I think that the most likely
Reason of all
May have been that his heart
Was two sizes too small.
He hated the NOISE!
NOISE! NOISE! NOISE!
The dancers, young and old,
Would get down to the beat.
Pop, slide and groove to the BEAT!
BEAT! BEAT! BEAT!
They would dance to Tonal DJs
In fresh venues for the season
Which was something the Grinch
Couldn't stand for no reason!
But one day the Grinch
Snuck into Tonal through the back door
And felt the bass of dance music
Rising up through the floor
"That's a noise," grinned the Grinch
"That I simply MUST hear!"
So he paused.
And the Grinch put his hand to his ear.
And he did hear a sound
Consuming the place.
A beat resonating
All over the space.
But the sound wasn't sad!
Why, this sound sounded merry!
It couldn't be so!
But it WAS merry! VERY!
He stared down at Tonal-ville!
The Grinch popped his eyes!
Then he shook!
What he saw was a shocking surprise!
Every dancer down in Tonal-ville
The tall and the small
Was getting down in unison!
The love of music was filling them all!
And what happened then...?
Well...in Tonal-ville they say
That the Grinch
Got down to house music that day!
Tryptich - Dec 3, 2008
I'll be throwin' down some deeper grooves at Triptych Art Gallery and Restaurant from 7-10pm. Drop by and say hello!
Los Deepness @ Oasis - Nov 9, 2008
This month join us for groovin' beats layed down by Erik Karki, DMTZ, BradElectro and Holt Sorenson.
Groove Sessions @ Mars Bar - Nov 7, 2008
Groove Sessions with DJs Leonard, Vega Garcia, William the monQ, and Holt Sorenson.
All Funkin' Night @ Underground - Jul 19, 2008