KZSU 2010 Summer Solstice Marathon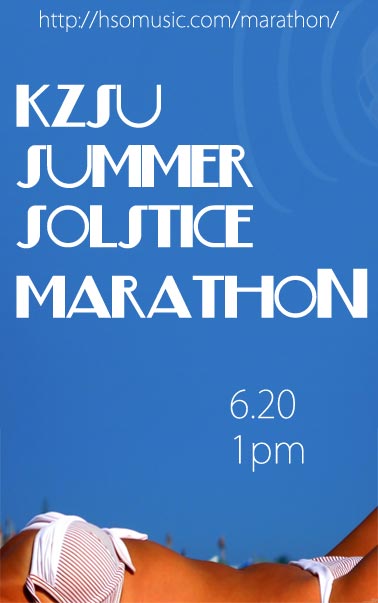 Tune In
Now in it's 17th year, KZSU's Solstice Marathon takes over the station for 30 hours and brings you the finest dance music beats with DJs hooking you up from the studios of KZSU with grooves and love from across the musical landscape. It is hosted by Jack Wang (Big Love) and Holt Sorenson (eclektronik groove).
This summer's solstice marathon will be starting up Sunday June 20th at 1 PM Pacific. Find out when the marathon is going down in your time zone!
This event is free and available via streams online so you can listen to it from anywhere you can get internet access.
Line Up
Stephen Rigmaiden
Stephen Rigmaiden IS the future of Dance music. If you don't know his name now, you soon will. Born into a musical household, Stephen developed an ear for great music extending well beyond the average musician. His influences range from Funk, Soul, Salsa, Hip-Hop and Dance Beats. It's from the highly creative nature of music and production that he draws his inspiration. Stephen lives by a code of ethics when it comes to music production; he prides himself for writing 100% of his music. Gaining quick acclaim from House Music heavy-weights such as Osunlade, Dennis Ferrer, city deep and Wave Music, Stephen Rigmaiden is a rising international star. Expect major releases throughout 2009 with DJ performances slated around the globe. The future is now, Stephen Rigmaiden is the sound.
DJ Cali
Cali loves music. Born in San Francisco, raised in the East Bay, Cali represents for thePeople Oakland with his partners Cecil, Be Brown, heyLove* and Amy Nabong. Moving dance floors with SOULFUL MUSIC from all over the globe: Afro * Broken Beat * House * SOUL * R&B * Jazz * Brazilian * Latin * it's all about the music.
He's had the honor of sharing the light with some incredible artists over the years including but not limited to Lady Alma, Daz-I-Kue, Ron Trent, Ian Friday, Simbad, King Britt and Jeremy Ellis.
thePeople was started in November 2007 by music lovers who felt the East Bay was being overlooked by Bay Area taste makers. Oakland, with its history as a community of immigrants, transplants, revolutionaries, leftists, artists, and people of color, is an obvious place to create a gathering focused on creative community building through art and culture.
thePeople aims to redefine nightlife in the East Bay by cultivating music, art, dance, fashion, cuisine, and community to create a soulful and eclectic experience. You can expect to hear gems from across the musical spectrum - progressive dance-hop to Afrobeat flavored house - the only limit imposed on the music is that it must move the body, mind, soul, or all three. Guest Chefs nourish thePeople with meaningful cuisines including locally and organically sourced food and foods that reflect the diverse cultural heritages of the community. Artisan vendors display and sell work including painting, jewelry, and clothing.
Brian Cabalic
At age 13 Brian Cabalic started learning how to beat match Freestyle and Miami Bass on his father's Pioneer turntable. His only outlet for music at that age was subscribing to Columbia House and BMG Music where he anxiously took advances on his weekly allowance to hustle records. It was 8 LPs for singing up, 7 LPs at club price, 4 free LPs for fulfilling his membership requirements. It wasn't long before he signed up his 6 year old brother Harold, and 3 year old sister Sarah with memberships just to reap those benefits as well. "I was a vinyl junkie at a very young age...and that was the only way I knew how to get records. If we had a dog I would have signed it up with a membership also".It wasn't long before 12" singles made their way into his crates and Brian started pushing out mix tapes as well as DJing for house parties and school dances. Frequent trips to San Francisco exposed him to music that he couldn't even find in San Diego. "I would go shopping at Rainbow Records in Serramonte, then my cousins and I would take the bus to Stonestown and I would raid the bins at Tower Records. Back in San Diego we had Lou's records...they never stocked anything as fresh as the Bay Area. I had L'Trimm -Cars that go boom 2 months before anyone did in San Diego, even the radio stations. I had this obscure record called Get Retarded that I never really heard anyone else play". When high school hit, Brian's love for sports took over, and he put his passion for music aside. After college Brian entertained the idea of becoming a DJ again. "I heard a rumor of how much a certain 'Headlining DJ' made for a set that I thought was less than impressive. I thought if he could make that much, I could do twice as good for half the price. Of course, it wasn't about money... But the idea that you could rock a crowd that large was pretty damn exhilarating."
Early 2006, Brian made connections with Teejay Walton and Brian Salazar of the Housemen and started playing in various clubs in the Bay Area. It wasn't long before Brian set his sights on relocating to San Francisco. In 2008 that dream became a reality and the change of environment breathed new life into Brian's quest to become a more complete DJ. "In San Francisco I'm surrounded by an entire culture of art, music, fashion... All these influences motivate me to put the game into overdrive. I'm where I want to be." With guest appearances at spots like DNA Lounge, The End Up, Temple, and Cardiff Lounge, Brian proved he is worthy of stepping to the plate in a scene filled with competition at all levels, behind the DJ booth and the studio.
Over the past 10 years, Brian Cabalic has established himself as one of California's premier house deejays. Having graced the decks in some of San Diego, Los Angeles' and San Francisco's most famous venues, Brian continues to share his vibe from one dance floor to the next becoming a key purveyor of deep, funky, soulful, and uplifting grooves in California.
Joseph 'jojo' Torres
Long before the spark that ignited Joseph 'jojo' Torres passion and love for house music, there were his b-boy days. His early exposure to street life and his younger years breaking and battling to early hip hop eventually planted the seed that House Music nourished and cultivated into a passion behind the decks that he still maintains today. Early hip-hop stars such as The Sugahill Gang, Grandmaster Flash, Doug E Fresh, and RUN DMC were his early idols. Other early influences include a variety of Soul, Funk, and R&B all stars: Al Green, Marvin Gaye, Curtis Mayfield, Chaka Kahn, The Ohio Players, D-Train, Evelyn Champagne King, Earth Wind & Fire, Paul Hardcastle and Kool & The Gang. Artists such as these lay a solid foundation for his taste in deep soulful house. Latin players such as Santana, Tito Puente, Celia Cruz, and Mongo Santamaria also play a role in jojos fusion of Latin, Soul, and House beats.
Dancing the nights away at local parties and listing to the local talent of San Franciscos house scene gradually shifted jojo's interest from just dancing to the music to wanting to be a part of it. SF DJs such as Pete Avila, Aaron O, David Harness, Ruben Mancias, Julius Papp and J-Jay were his early hometown heroes and pioneers of SFs distinct sound. One of jojos first breaks included an internship at San Franciscos 106.1 KMELs legendary House mix show, Yo Mamas House. Hosted by Foxxee Brown, the long running radio show included resident DJs Pete Avila, David Harness, and Patrick Wilson and was the main force behind bringing out the freshest sounds the brightest stars of the underground to the airwaves. The show boasted a variety of world renowned DJs. Masters at Work, Tony Humphries, Tedd Patterson, Eddie Amador and Frankie Feliciano were just some of the world class DJs that were featured on the show. It also was the medium for underground hits to crossover to the mainstream. Titles such as The Bomb (Kenny Dope), Music Sounds Better with You (Stardust) and Sing it Back (Moloko) made their debut on the show and soon hit the airwaves in heavy rotation. Clearly that experience refined jojos ear and is evident in his selection of deep soulful house.
In addition, jojo has appeared at some of the San Francisco Bay Areas most prominent nightclubs. Ruby Skye, 1015 Folsom, 550 Barneveld, The End UP and Hotel Ibiza are just some of the venues that have displayed this talents skills on the techs. jojo says, Eventually I want to make my own music That is the fuel that keeps the fire going.
Holt Sorenson
Holt Sorenson is a radio dj for KZSU Stanford 90.1 FM. His live continuous mix show, Eclektronik Groove, can be heard monday mornings from 9AM-12PM Pacific Time (US). The show features various sub-genres of house, techno, and breaks. The show can be streamed online from KZSU. Holt also plays live and has been featured at parties and clubs in DC, LA, Las Vegas, Mexico, San Francisco, and Seattle.
David Harness
David Harness is one of the most popular DJ/producers in the San Francisco Bay Area club scene. He has been described as "a man who lives, breathes and emanates everything that is beautiful about deep house music and classic garage." David is considered a "rising star" within the dance community.
As a military brat, David Harness traveled the world extensively during his childhood. "Regardless of which country I was in, I always heard American music, namely R&B. This little bit of familiarity really helped me feel secure in a lot of different places." With influences varying from Barry White and the Love Unlimited Orchestra, Harold Melvin and the Blue Notes, Quincy Jones, the Jackson Five, Stevie Wonder, Parliament Funkadelic, the Isley Brothers and First Choice, it is easy to see why funk and soul have always been strong elements in his sound.
In 1990, David began DJ'ing at the After Dark in his hometown of Monterey, California. As his popularity grew past the boundaries of Monterey, he was invited to establish a residency at Tilt and the Sound Factory in San Francisco. In 1994, David opened and DJ'ed at the hip and popular club Lift at Club Dv8 in San Francisco.
His success as a club DJ led to a DJ spot on commercial radio. In 1994, David joined the popular radio show Your Mama's House on the San Francisco Bay Area's number one radio station KMEL FM. Your Mama's House was the only "true" house mix show on any major radio station in Northern California. As part of the Your Mama's House crew, David played a key role in exposing the masses to House Music in the San Francisco Bay Area.
In 1995 David kicked off a seven year residency at San Francisco 's legendary Club Universe -- San Francisco's hottest Saturday night party. At Club Universe, David had the opportunity to play with many New York's legendary DJs like Frankie Knuckles, Tony Humphries, Little Louie Vega, Tedd Patterson, Dave Morales, Danny Teneglia, London's Ricky Morrison, Los Angeles' Marques Wyatt, San Francisco's Miguel Migs, Mark Farina and Kaskade -- just to name a few.
His growing popularity accelerated David's natural progression into production. In 1996, David was selected to spearhead the studio production for a national marketing campaign for the McDonald's Deluxe Burger. Also in 1996, David begin his ongoing residency at The End Up Sunday T-Dance -- San Francisco's longest running dance party.
In 1998, he released a CD for Universe Sounds and Twisted America, "Welcome to the Universe". This innovative CD, recorded live from Club Universe, reflects San Francisco's unique "sound" and introduced the world to David Harness. Recognizing his talent, Twisted America quickly signed him to produce his first single, "Get It Together", for a Twisted America compilation entitled "A Little Bit of the Old, A Lot of the New". David also started his ongoing residency at Fag Fridays in San Francisco in 1998 where he is still rockin' the floor.
In 1999, David started Taboo in San Francisco's Mission District. Taboo started out of David's love of House music and his desire to provide a showcase for Bay Area talent as well as internationally known DJs. This ongoing party attracts a loyal crowd of househeads from around the San Francisco Bay Area and the globe to the weekly blending of spirit and soul.
In September 2000, David launched DHJ Productions and has established himself as a respected producer and remixer. To date, David has worked on projects featuring artists such as Mary J. Blige, Luther Vandross, Aretha Franklin, Simply Red, Alicia Keys, Floetry, Donnie McClurkin, India Arie, *NSYNC and Donnell Jones. A collaborative effort with DJ/producers Chris Lum of Abitare Music, Jay J of Moulton Studios, and Charles Spencer of LoveSlap has resulted in several independent releases. David has appeared in articles and interviews in Billboard Magazine, Paper Magazine, Surface, XLR8R, Streetsounds, Sweater, HX, Next, URB, DJ Mag and the SF Bay Guardian.
David Harness' passion, talent and creativity has definitely created a new page in the history of house music.