KZSU 2009 Winter Solstice Marathon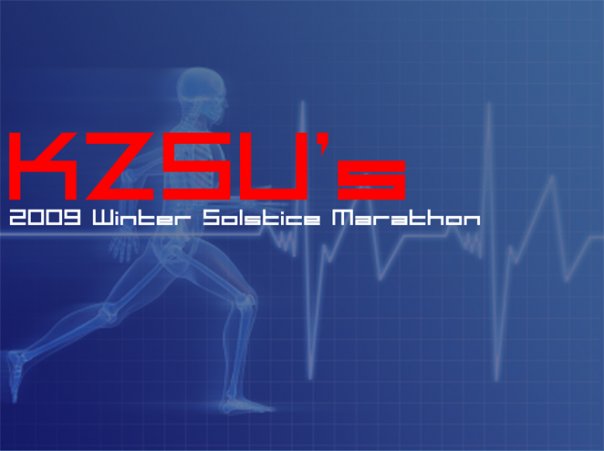 Tune In
Now in it's 16th year, KZSU's Solstice Marathon take over the station for 33 hours and bring you the finest dance music beats with DJs hooking you up from the studios of KZSU with grooves and music love from across the musical landscape and is hosted by Jack Wang (Big Love) and Holt Sorenson (eclektronik groove).
This winter's solstice marathon will be starting up Sunday December 20th at 3 PM Pacific. There will be more information soon so check back often!
This event is free and available via streams online so you can listen to it from anywhere you can get internet access.
Line Up
Schedule
| | |
| --- | --- |
| 3pm-5pm | Loren Torresola |
| 5pm-7pm | Alonso Ordoñez |
| 7pm-9pm | Lucas Rodenbush (EBE) |
| 9pm-11pm | Derek Scott aka The Rhythmist (live PA) |
| 11pm-1am | Chris Leath |
| 1am-3am | Paul Leath |
| 3am-5am | Paul Davis (DJ Suite) |
| 5am-7am | Dru Deep |
| 7am-9am | Tamotsu |
| 9am-11am | Holt Sorenson |
| 11am-1pm | Alland Byallo |
| 1pm-3pm | Raf-One |
| 3pm-5pm | Stevian |
| 5pm-7pm | Bones |
| 7pm-8:30pm | Dyno |
| 8:30pm-10pm | dCoy |
| 10pm-12am | DJ Zenith |
Alland Byallo
The SF Bay Guardian called Alland Byallo "San Francisco's very own tidal wave of techno", and for good reason.
Alland is one of the busiest men in the San Francisco techno community. Having produced electronic music for over 10 years and DJing for nearly as long Alland come to be an international talent, releasing original material and remixes on respected US and European record labels such as Liebe*Detail, Floppy Funk, Utensil Recordings and Dirtybird among many others, and headlining events all over. His music, a blend of old and new elements of techno, house and minimal, is regularly charted and has been licensed to CD's released by Universal, OM Records, Proton Music and Airdrop Music.
Alland's involvement with music didn't just start from splurging and buying some 1200's. Having been raised with music since the age of 5 playing piano, and adding trumpet at age 11, it only seemed natural for Alland to follow up his skills and training by sharing his taste in quality music with people as a DJ, and pursuing production. Alland is always quite busy in the studio working hard on his own unique take on electronic dance music for his own Nightlight Music imprint and many other labels. In 2006 Alland founded ElektrUS. This private forum is made specifically to increase European interest in the American minimal techno / tech-house scene. By providing a simple, central and easy means of communication, ElektrUS streamlines the booking process and maximizes the productivity of tour booking ventures. The hope is to make the US a more fun and respectable place for the techno community, and a more profitable venture for European talent and agents. This forum was a large part of successful US techno bookings in 2007 and 2008, and is set to help more in the coming years.
Not only is Alland a resident, graphic designer and A&R for what is arguably the States' most respected and notorious techno night, [KONTROL], he is also booked regularly as the opening act for influences such as Superpitcher, Trentemøller, Michael Mayer, Booka Shade, M.A.N.D.Y., Swayzak, Miss Kittin, Modeselektor, Claude VonStroke, Jeff Samuel, Heartthrob, Redshape, Ambivalent and many others. Alland has quickly grown to be one of the most in-demand Techno talents that SF has to offer.
Among many great parties, 2007 saw Alland performing live at Seattle's Decibel Festival and DJing at Lovefest in San Francisco. In 2008 Alland played a fantastic DJ set on the Beatport Stage at the Detroit Electronic Music Festival (DEMF Movement), a DJ performance at Decibel 2008, and played a successful European tour including gigs at such world famous clubs as Panoramabar in Berlin and Propoganda Moscow. His recent tour of Europe saw him play rockin sets and building goodwill at such illustrious clubs as Harry Klein in Munich, Week End club Berlin, Uebel & Gefährlich and Kubik in Hamburg, and Cyprus' infamous Klub D. And now with his full-length album Brick By Brick due out this summer it's obvious that the future looks bright for both him and his label, Nightlight Music.
Alonso Ordeñez
Alonso Ordeñez has been DJing since 1990. As a teenager, he got a job working for the frequented San Jose vinyl emporium Upstairs Records. There, he was introduced to house music and soon became a buyer, picking up iconic imprints like Strictly Rhythm, Murk, Irma, New Groove, King Street and several...
Bones
Chris Leath
Chris is a wickedly talented DJ drawing from a wide musical taste to challenge your idea of what a DJ set is. His track selection and mixing skills are paragon. He uses these weapons to deftly conjure and enslave musical demons indenturing them to his will as the 1200s bow to the hands of a master.
dCoy
Tim aka dCOY was raised in the Cleveland suburb of Elyria, OH where he spent many a day on a skateboard, strumming his guitar, and playing in psychedelic/alt/Manchester influenced bands. In the late ?80s, Tim began going to dance clubs, and found himself being more and more influenced by the electronic sounds of Meat Beat Manifesto, Ministry, Nitzer Ebb and 808 State (to name a few).
In 1996, being heavily influenced by the more raw, stripped down sounds of the Midwest, Tim started DJing in Gainesville, Florida, playing sets of pure techno contrasting heavily against the local standards of breaks and trance. Always in search of a home, Tim would eventually leave Gainesville to follow his heart to the West. By 2007 Tim was in San Francisco and DJing on a steady diet of minimal techno and tech-house. Alongside fellow DJs Razvan, Farzana, and IXD, Tim helped establish Oakland?s now legendary Black Market Techno.
In February 2008, Tim decided that everyone needed more techno and co-founded Killswitch with DJ Javaight, a weekly techno happy hour in the Lower Haight where Tim continues to push the envelope and the rhythm into the hearts and minds of listeners. Over the years, Tim has played alongside artists such as Dan Curtin, Seth Troxler, Josh Wink, Meat Beat Manifesto, Todd Sines, Reference, Eric Johnston, and Sassmouth, among others. Always keeping the dance floor a priority, dCOY drops with a solid mix of tech and textures, vibrations and aftershocks.
Dru Deep
Dru Deep plays records, make beats, and designs designs designs. Dru has been playing records since he was a young lad. House is Dru's #1 love. With all the diiferent styles nowadays he hates to label himself as "just a house DJ". He plays oldschool hip hop, disco, electro--versatile is Dru's middle name.
Dyno
Holt Sorenson
Holt Sorenson is a radio dj for KZSU Stanford 90.1 FM. His live continuous mix show, Eclektronik Groove, can be heard monday mornings from 9AM-12PM Pacific Time (US). The show features various sub-genres of house, techno, and breaks. The show can be streamed online from KZSU. Holt also plays live and has been featured at parties and clubs in DC, LA, Las Vegas, Mexico, San Francisco, and Seattle.
Loren Torresola
Lucas Rodenbush
Lucas Rodenbush has been making electronic music since 1991. He is best known for his work as E.B.E. on labels like Soma, Plastic City, Yoshi Toshi, Resource + Jump, Grayhound, YellOrange and his and Solid Grooves' own San Jose, CA-based Solid Trax, producing electronic house and techno music with a distinctive sonic quality and rhythmic edge. His latest output includes a collection of releases with Designforms, Dutchie, Transmat, Plastic City Germany, Dobox and Immigrant. His music has made it onto the tracklists of many a compilation CD by such internationally respected DJs as Danny Tenaglia, Danny Howells, Anthony Pappa, Donald Glaude, Chris Fortier and Carl Cox. He has also seen a track licensed to the Sony Pictures Classics 35mm release of the feature "Groove" alongside the likes of John Digweed, Octave One and DJ Wish FM, as well as an inclusion on Transmat's revered Time:Space_02 project. His career as a dance musician has led him to work with important artists like Christian Smith, Alexi Delano, DJ Spun, GPal, Robin Porter, Chris Jackson, Kenneth Graham + Walter Chao, Mustafa, Arturo Garces, and Alonso Ordoñez. He has also remixed the work of Pete Moss, Marc Cotterell, Mechanique, Arturo Garces, Kenneth Graham, ADNY, Sloth & Dormant, ETI and Vandal. As a DJ, he has visited the UK, Chile, Canada, and has toured throughout Japan and the USA as a premier artist. Rodenbush continues to develop his musical craft in the studio after receiving his MFA in Experimental Sound Practices and Integrated Media from the distinguished California Institute of the Arts.
Paul Davis (DJ Suite)
DJ Suite has been a part of the KZSU dance music story as he started out playing on the Big Love Show with Jack. His smooth style and track selection meld and blend beats as he makes vinyl dance under his fingers.
Paul Leath
After a long, long break from dj'ing, the "scene", touring, producing, Paul Leath has returned to make another impact on the world of dance music. In his experiences learning the industry and making connections, long lasting friendships, he am kicking off random events in the Bay Area, concentrating on bringing out dj's from all parts of the globe. The objective of this return to his love of dj'ing and music is to continue to enjoy every moment and keep pushing the norm. It's time to kick some ass and ask questions later.... The ride is and will be should be fun!!!!
Raf-One
Stevian
Stevian sez: 'I've always loved the different beats and melodies of music and when I heard House music for the first time, it captured my soul. I've been collecting since the early 90's and consider myself a "mixed bag" when it comes to explaining what style of music I play.'
I would have to say that being from the Bay Area the "SF Sound" has had a huge influence on me. I've been very fortunate to play with DJ's such as Spun, Tony, Simon, Jeno and Buck who are not only some of my favorites, but also DJs that have influenced me over the years. I try to incorporate more than one genre of music that will take people on a musical journey so..sit back, relax and enjoy the trip!
Tamotsu
Since grade school Tamotsu has always been involved with music by playing in various bands. He picked up his vinyl habit sometime around 1991 when he taught himself how to mix on some 1200's that were left at the house after a party. Hooked for good, Tamotsu has been playing around the area and abroad ever since. Tamotsu has also helped support many of the earliest parties in San Jose, like Velvet Shop. He's played at the ENDUP, WMC, OM, Keep Tahoe Deep amongst many other venues. He's played across the globe from Bangkok to Hawaii.
DJ Zenith
DJ Zenith, Stephanie Blair, was born in Washington, DC but grew up all over the world. Her childhood included places such as southeastern Virginia; Marquette, Michigan; Angeles City, Philippines; and Seoul and Taegu, Korea. Music was part of her life from an early age. Whether she was taking classical piano lessons; singing while her father played twelve string guitar in talent shows; singing in choirs; playing roles including lead in musicals; or playing tenor saxophone in symphonic bands; or DJing her college radio station; Stephanie grew up immersed in music. Stephanie became fascinated by the San Francisco dance scene in Washington, DC where she returned to after college. Stephanie finally moved to San Francisco in 2002. Stephanie's mixes are characterized by a dominant bass line. Fascinated by rhythms, many of her tracks also feature a heavy percussion element. Whether she's dropping acid tracks, tracks with beautiful female vocals, jazzy tracks, or even hip house tracks... she always serves it up with a large side of funk. Stephanie has played as close as Black Rock City and as far away as Paris. DJ Highlights this year for Stephanie include DJing with Green Gorilla Lounge at Burning Man and at Burning Man Camp Fundraisers, playing in her home town Washington, DC at the Dragon Fly Bar and finally playing in Paris, France at the Lizard Lounge. Stephanie is a resident Thursday nights at Sugar with Native Intellgence ( Sleevin Records ) and DJ Robb Crush ( Stompy ) as well as the Art & Music Sessions on Saturdays with Cez featuring art work by Danyol. Stephanie can also be found DJing around San Francisco and coming to a warehouse near you.