KZSU 2009 Summer Solstice Marathon
Tune In
Now in it's 16th year, KZSU's Solstice Marathon take over the station for 24 hours and bring you the finest dance music beats with DJs hooking you up from the studios of KZSU with grooves and music love from across the musical landscape.
This summer's solstice marathon will be starting up Sunday June 21st at 4 PM Pacific. More information soon so check back often!
This event is free and available via streams online so you can listen to it from anywhere you can get internet access.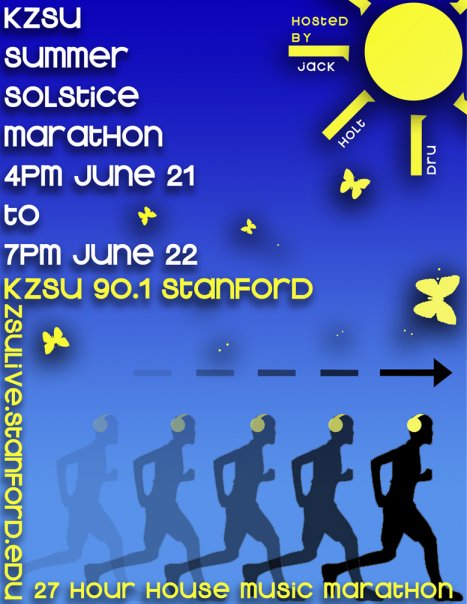 Schedule
David Harness
David Harness is one of the most popular DJ/producers in the San Francisco Bay Area club scene. He has been described as "a man who lives, breathes and emanates everything that is beautiful about deep house music and classic garage." David is considered a "rising star" within the dance community.
As a military brat, David Harness traveled the world extensively during his childhood. "Regardless of which country I was in, I always heard American music, namely R&B. This little bit of familiarity really helped me feel secure in a lot of different places." With influences varying from Barry White and the Love Unlimited Orchestra, Harold Melvin and the Blue Notes, Quincy Jones, the Jackson Five, Stevie Wonder, Parliament Funkadelic, the Isley Brothers and First Choice, it is easy to see why funk and soul have always been strong elements in his sound.
In 1990, David began DJ'ing at the After Dark in his hometown of Monterey, California. As his popularity grew past the boundaries of Monterey, he was invited to establish a residency at Tilt and the Sound Factory in San Francisco. In 1994, David opened and DJ'ed at the hip and popular club Lift at Club Dv8 in San Francisco.
His success as a club DJ led to a DJ spot on commercial radio. In 1994, David joined the popular radio show Your Mama's House on the San Francisco Bay Area's number one radio station KMEL FM. Your Mama's House was the only "true" house mix show on any major radio station in Northern California. As part of the Your Mama's House crew, David played a key role in exposing the masses to House Music in the San Francisco Bay Area.
In 1995 David kicked off a seven year residency at San Francisco 's legendary Club Universe--San Francisco's hottest Saturday night party. At Club Universe, David had the opportunity to play with many New York's legendary DJs like Frankie Knuckles, Tony Humphries, Little Louie Vega, Tedd Patterson, Dave Morales, Danny Teneglia, London's Ricky Morrison, Los Angeles' Marques Wyatt, San Francisco's Miguel Migs, Mark Farina and Kaskade -- just to name a few.
His growing popularity accelerated David's natural progression into production. In 1996, David was selected to spearhead the studio production for a national marketing campaign for the McDonald's Deluxe Burger. Also in 1996, David begin his ongoing residency at The End Up Sunday T-Dance--San Francisco's longest running dance party.
In 1998, he released a CD for Universe Sounds and Twisted America, "Welcome to the Universe". This innovative CD, recorded live from Club Universe, reflects San Francisco's unique "sound" and introduced the world to David Harness. Recognizing his talent, Twisted America quickly signed him to produce his first single, "Get It Together", for a Twisted America compilation entitled "A Little Bit of the Old, A Lot of the New". David also started his ongoing residency at Fag Fridays in San Francisco in 1998 where he is still rockin' the floor.
In 1999, David started Taboo in San Francisco's Mission District. Taboo started out of David's love of House music and his desire to provide a showcase for Bay Area talent as well as internationally known DJs. This ongoing party attracts a loyal crowd of househeads from around the San Francisco Bay Area and the globe to the weekly blending of spirit and soul.
In September 2000, David launched DHJ Productions and has established himself as a respected producer and remixer. To date, David has worked on projects featuring artists such as Mary J. Blige, Luther Vandross, Aretha Franklin, Simply Red, Alicia Keys, Floetry, Donnie McClurkin, India Arie, *NSYNC and Donnell Jones. A collaborative effort with DJ/producers Chris Lum of Abitare Music, Jay J of Moulton Studios, and Charles Spencer of LoveSlap has resulted in several independent releases. David has appeared in articles and interviews in Billboard Magazine, Paper Magazine, Surface, XLR8R, Streetsounds, Sweater, HX, Next, URB, DJ Mag and the SF Bay Guardian.
David Harness' passion, talent and creativity has definitely created a new page in the history of house music.
Patrick Wilson
San Francisco's Patrick Wilson is quickly becoming one of the most sought after DJs out there. Patrick made his first Southport Weekender appearance back in May and can often be seen playing side by side with the likes of Louie Vega, Timmy Regisford, Frankie Feliciano and other house music heavyweights. He is part of Ricanstruction Label, which is run by his close friend & mentor Frankie Feliciano and often produces excellent mixes for Frankie's 'Crossfade Radio' podcast. He's the spiritual founder of the nulife party, an evening dedicated to deepsoul culture.. house and soul lovers from miles around come to hear his sets and he's well known worldwide amongst (true) heads.
Joseph 'jojo' Torres
Long before the spark that ignited Joseph 'jojo' Torres passion and love for house music, there were his b-boy days. His early exposure to street life and his younger years breaking and battling to early hip hop eventually planted the seed that House Music nourished and cultivated into a passion behind the decks that he still maintains today. Early hip-hop stars such as The Sugahill Gang, Grandmaster Flash, Doug E Fresh, and RUN DMC were his early idols. Other early influences include a variety of Soul, Funk, and R&B all stars: Al Green, Marvin Gaye, Curtis Mayfield, Chaka Kahn, The Ohio Players, D-Train, Evelyn Champagne King, Earth Wind & Fire, Paul Hardcastle and Kool & The Gang. Artists such as these lay a solid foundation for his taste in deep soulful house. Latin players such as Santana, Tito Puente, Celia Cruz, and Mongo Santamaria also play a role in jojos fusion of Latin, Soul, and House beats.
Dancing the nights away at local parties and listing to the local talent of San Franciscos house scene gradually shifted jojo's interest from just dancing to the music to wanting to be a part of it. SF DJs such as Pete Avila, Aaron O, David Harness, Ruben Mancias, Julius Papp and J-Jay were his early hometown heroes and pioneers of SFs distinct sound. One of jojos first breaks included an internship at San Franciscos 106.1 KMELs legendary House mix show, Yo Mamas House. Hosted by Foxxee Brown, the long running radio show included resident DJs Pete Avila, David Harness, and Patrick Wilson and was the main force behind bringing out the freshest sounds the brightest stars of the underground to the airwaves. The show boasted a variety of world renowned DJs. Masters at Work, Tony Humphries, Tedd Patterson, Eddie Amador and Frankie Feliciano were just some of the world class DJs that were featured on the show. It also was the medium for underground hits to crossover to the mainstream. Titles such as The Bomb (Kenny Dope), Music Sounds Better with You (Stardust) and Sing it Back (Moloko) made their debut on the show and soon hit the airwaves in heavy rotation. Clearly that experience refined jojos ear and is evident in his selection of deep soulful house.
In addition, jojo has appeared at some of the San Francisco Bay Areas most prominent nightclubs. Ruby Skye, 1015 Folsom, 550 Barneveld, The End UP and Hotel Ibiza are just some of the venues that have displayed this talents skills on the techs. jojo says, Eventually I want to make my own music That is the fuel that keeps the fire going.
DJ Frankie Jr.
Frankie Jr. started mixing in 1996 at the tender age of 16. His record collecting addiction began at age 5, when he would force his Mom & Dad to buy him albums by artists like Michael Jackson, Prince, Celia Cruz, and Tito Puente. He also played the Saxophone from ages 8 to 14 in school bands and beyond. In the Summer of 1993 Frankie attended an all night warehouse party called the Gathering in the San Francisco Bay Area that blew him away and changed his life for ever. Soon after he bought some Technics turntables and a mixer and began to shop for house records. He has never looked back since. At the turn of the century Frankie moved to Manchester, England to study studio technology (sound engineering and live recording) at Manchester Midi School. During his stay there he was able to grace the decks at many events such as the Touch parties in Edinburgh, Scotland and underground afterhours parties in Manchester, England. Since returning home to SF, Frankie played in the 2004 Love Parade and Love Fest 2006 with fellow residents from Late Night Events. Frankie has played alongside extraordinary talent such as Jask, David Harness, DJ Heather,Jay-J, Pete Avila, Julius "The Mad Thinker", M3, Franky Boissy, RaSoul, DJ Carlos, Kwashi, Rick Preston, Eric Davenport, Greg Eversoul, BB Hayes, Hector Moralez, Chris Carrier, David Coleman & Sen-Sei and Ellen Ferrato to name a few. Frankie currently holds down a residency with TruSoul, RiseSF.com & Essential-Nightlife.com
Tommy Toonz
jojo brought Tommy Toonz, an east coast veteran of the scene out to both Eclektronik Groove and The Big Love Show. He comes correct with his bumpin' livesets, so he's joining us to throw down during the marathon.
Stevian
Stevian sez: 'I've always loved the different beats and melodies of music and when I heard House music for the first time, it captured my soul. I've been collecting since the early 90's and consider myself a "mixed bag" when it comes to explaining what style of music I play.'
I would have to say that being from the Bay Area the "SF Sound" has had a huge influence on me. I've been very fortunate to play with DJ's such as Spun, Tony, Simon, Jeno and Buck who are not only some of my favorites, but also DJs that have influenced me over the years. I try to incorporate more than one genre of music that will take people on a musical journey so..sit back, relax and enjoy the trip!
Holt Sorenson
Holt Sorenson is a radio dj for KZSU Stanford 90.1 FM. His live continuous mix show, Eclektronik Groove, can be heard monday mornings from 9AM-12PM Pacific Time (US). The show features various sub-genres of house, techno, and breaks. The show can be streamed online from KZSU. Holt also plays live and has been featured at parties and clubs in DC, LA, Las Vegas, Mexico, San Francisco, and Seattle. Holt is always looking for new music to feature on his show. If you're a label or a producer you can contact Holt on Myspace, Facebook, or by sending an email to .
Dru Deep
Dru Deep plays records, make beats, and designs designs designs. Dru has been playing records since he was a young lad. House is Dru's #1 love. With all the diiferent styles nowadays he hates to label himself as "just a house DJ". He plays oldschool hip hop, disco, electro--versatile is Dru's middle name.
Ivan Ruiz
Ivan Ruiz's relentless devotion to electronic music began at age 11. He would stay up late for hours listening to his uncle and friends DJ, in the late 1980's and early 1990's. "I use to watch them spin records for hours and was amazed at how they kept a consistent beat." In 1993, Ivan stumbled across various "house music" mix tapes from Wicked, Simon, and Mark Farina, which lead him to his calling: House Music! Ivan began DJ-ing in 1995 in his hometown area of the Monterey Bay, and by 1999, he was sharing his brew of deep house across the airwaves of 90.9FM KHDC. This earned him a residency on the premiere electronic underground radio show, "Underground Audio", with Jesse Gonzalez and Roberto Solorio. Underground Audio was the longest running show in the area's history catering underground sounds to the masses. Ivan held his residency until the shows demise in 2004. In 2004, Ivan teamed up with friends to launch the infamous monthly "Mint" inside Club Octane in the Monterey Bay. Mint had a run of 2 years of quality parties, until 2006. Mint featured an array of world class DJ's like Bad Boy Bill, DJ Dan, Doc Martin, Derrick Carter, Mark Farina, and Rick Preston to mention a few. In 2005, Ivan moved to San Francisco to finish his college degree. While in San Francisco, he was inquired to be part of the once acclaimed In House Records. While working there, he also worked as the house music buyer for TRC Distribution in San Francisco. He is currently part of San Francisco's institute for music, Amoeba Music. There you can find him in the Electronica aisle helping DJ's from all walks of life to find new soundscapes and styles. In addition to finding Ivan at Amoeba Music, you can also find him at Tweekin' Records on lower Haight Street. Ivan has held a deep devotion to working in record stores since the age of 17 and continues to devote a large part of his life to music. In 2006, Ivan created the "Hidden Cove" project to showcase and feature his love for deep/dubby/jazzy/funky downbeat grooves. His Hidden Cove project has been featured in URB magazine and continues to influence electronic music lover's worldwide. Ivan's passion, talent, and creativity has made him become an integral part of San Francisco's underground music community.
Leonard
Leonard is a long time member of the scene. His store, In House Records was a mecca for international and local DJs and headz to worship at the altar of vinyl. A member of the dope-ass Tocadisco Music Group, he brings musical depth and knowledge to your ears as he works the decks for you.
Hector Moralez
It is very rare that you find an artist like Hector Moralez with such love and passion for the music, As one half of the world renowned House music producing duo know as Fries & Bridges this DJ/Producer/Remixer has made a definite mark over the last 8 years. His first release with Phil Weeks "Time to Yourself" on Robsoul Recordings gained him acclaim from many artists. Considering this was his first release the track made it to many charts in England and America. The track was powerful making it on to a live mix CD by John Marsh of the Beloved for London's Fabric night club. His releases since have come out on some of the worlds best known Housemusic imprints.He currently divides his time in the Studio between projects with Phil Weeks, Chris Carrier & Block Committee. with Original music coming out in the future on his found label "Minority Music" traveling back & forth from Paris to Oakland, his home for many years.
Anthony Mansfield
Anthony Mansfield got his first taste of house music in the early underground house scene of Northern California circa 1992. A heady mix of full-moon parties, beach parties, dirty warehouses, laid-back clubs, and crazy house-parties coupled with psychedelic, funky, deep house and organic breaks. In 1993 Anthony met Manny (DJ M3) and began promoting both club and underground events, including Deep Space and Get Down, Get Down.
By 1994, Anthony went back home for college in Upstate NY at Skidmore. While there he threw his own monthly club events, countless basement house parties and an annual band/dj fundraiser for Students For A Free Tibet. Anthony also hosted a popular radio show show for four years showcasing house, dub, disco, hip hop, funk and soul all mixed.
In 1998, Anthony moved back to his home town of Ithaca, New York and began promoting club and underground events via Hector Works. He started Beat-Down, Upstates longest running house weekly, which continues to this day. Anthony's biggest contribution to Ithaca was Odyssey Night Club where he was the first employee, resident DJ, general manager and booking agent. Located downtown in a historic Masonic temple, this 20,000 square foot mega-club hosted such luminaries as Maceo Parker, Soulive, Black Eyed Peas, The English Beat, New Deal, Sound Tribe Sector 9, Derrick Trucks, John Browns Body as well as DJ Mark Farina, Soulstice, Markie & Jeno from Wicked, Vitamin D, DJ Who, and many others.
Anthony's latest chapter is relaunching his company Hector Works as an independent music label and he just recently finished up two years as co-owner of world reknown Tweekin Records.